The Least of These
In the Flesh
---
Do you want your own Roku channel?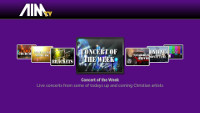 We've extended our promotion through May! For every ministry that signs up to provide sermons and/or music for the network (just $50 per month to format and host your videos), we'll design a custom channel around your ministry, complete with categories of content and custom graphics for just $199. We'll even submit the final package to the Roku channel store to get your channel up and running quickly. Ask us how to get started!
---
Need an easy, professional, camera?
This an amazing little camera, with a wide angle lens and dual microphones. Great as a entry level recording device. You WILL need a 64gb micro SD for storage. Call us if you have questions; we can help!
---
Need a Roku device?
Amazon has an excellent selection, including this one, starting at only $29.00. Click on the graphic below to explore your options to watch Adam Miller on AIM Christian Television.
Welcome!
Adam Miller leads the Christian electro rock ensemble, Charismatik.
If you would like to purchase the Charismatik CD "Fighting The Good Fight," which includes this song, please send $10 dollars, check or money order, to Charismatik, P.O. Box 270 Lakeland, FL 33802
For more information, please CLICK HERE to contact Adam through LinkedIn.
---
Want more?
Now you can also watch all of the Adam's music videos on your television! Just tune in AIM Christian Television on your Roku set top box. If you haven't already added AIM Christian Television to your Roku, go to www.addAIMTV.com. You may also just search for "AIM Christian" directly on your Roku and install it from there.