Be Gracious
Beyond All Limits
When Your Faith Takes a Licking...
A Fruitful Life
What To Do When You Don't Know What To Do
Don't Stay Stuck Between Hurt and Mad
---
Want more?
Now you can also watch all of Rev. Morrow's sermons on your television! Just tune in AIM Christian Television on your Roku set top box. If you haven't already added AIM Christian Television to your Roku, go to www.addAIMTV.com. You may also just search for "AIM Christian" directly on your Roku and install it from there.
Need a Roku device?
Amazon has an excellent selection, including the one below, starting at only $29.00. Click on the graphic below to explore your options.
Do you want your own Roku channel?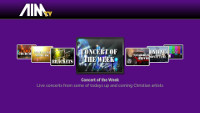 We've extended our promotion through May! For every ministry that signs up to provide sermons and/or music for the network (just $50 per month to format and host your videos), we'll design a custom channel around your ministry, complete with categories of content and custom graphics for just $199. We'll even submit the final package to the Roku channel store to get your channel up and running quickly. Ask us how to get started!
Need help managing your Roku channel?
There are lots of little details involved in making a dynamic Roku channel. We'll handle those details for you, for just $50 per month. Includes creating graphics to represent your videos on the Roku platform AND the website, along with modification and upload of the appropriate XML feed files.
Contact us for help with your Roku channel!
You may call or text (317) 514-7517, or email info@aimchristian.com to get your questions answered or to get the ball rolling. We're here to help. Let us know what we can do for you!
Our Mission
To equip people to live abundantly in Christ through God's message of hope, deliverance & victory.
Our Vision
To grow a congregation with an ethos of evangelism and ministries to the poor so linked together you could not have one without the other. It is with this in mind that NGMEC will fulfill our mission, addressing the spiritual and temporal needs of people, beginning with spiritual growth and development, economic development, healthcare, ministry to the poor and homeless and education.
Our Objective
To equip people to live abundantly in Christ by following the example of Jesus; "And Jesus grew in wisdom and stature, and in favor with God and man." Luke 2:52
Growth in wisdom: God's path for living in a world of chaos.
Growth in stature: Building a meaningful and fruitful life.
Growth in favor with God: Fulfilling God's purpose for your life
Growth in favor with man: Practicing God's love in your community
We hope you are blessed by New Generation Ministries as we share God's message of hope, feliverance & victory... just for you! For more information, please call (901) 774-6460