---
Do you want your own Roku channel?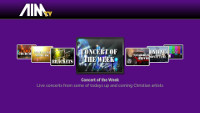 We've extended our promotion through May! For every ministry that signs up to provide sermons and/or music for the network, we'll design a custom channel around your ministry (just $50 per month to format and host your videos), complete with categories of content and custom graphics for just $199. We'll even submit the final package to the Roku channel store to get your channel up and running quickly. Ask us how to get started!
---
Need an easy, professional, camera?
This an amazing little camera, with a wide angle lens and dual microphones. Great as a entry level recording device. You WILL need a 64gb micro SD for storage. Call us if you have questions; we can help!
---
Need a Roku device?
Amazon has an excellent selection, including this one, starting at only $29.00. Click on the graphic below to explore your options to watch Westward Road on AIM Christian Television.
Welcome!
Our prayer is that our songs, our testimonies, and our lives embody the only true and lasting hope for the world, the hope of Christ, and that we will always be faithful in sharing it with everyone we meet.
You can get our music at any of the following links...
Our Website
​ On iTunes
​ On Google Play
​
---
Want more?
Now you can also watch all of Westward Road's music on your television! Just tune in AIM Christian Television on your Roku set top box. If you haven't already added AIM Christian Television to your Roku, go to www.addAIMTV.com. You may also just search for "AIM Christian" directly on your Roku and install it from there.